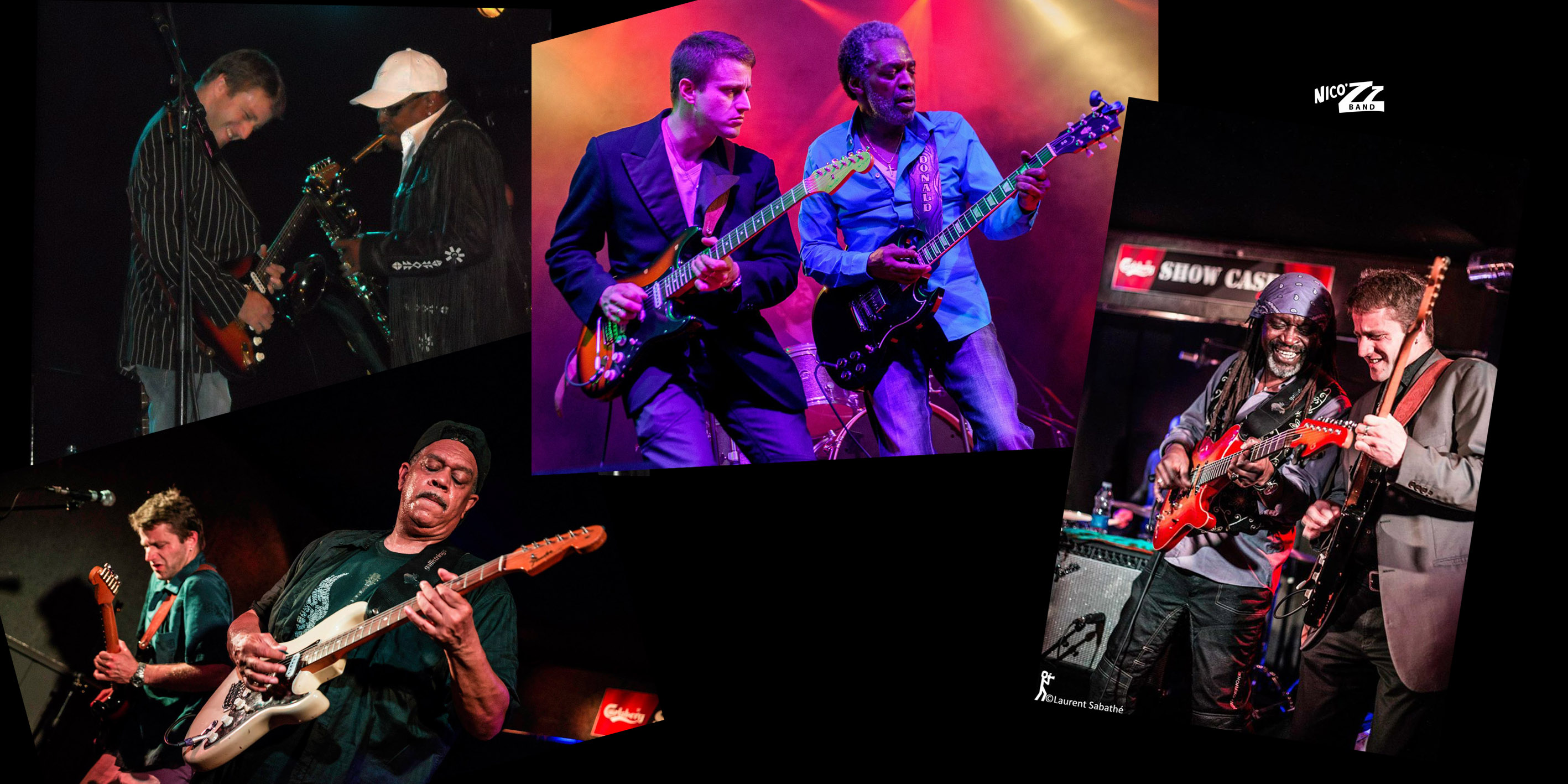 A precocious musician, a fan of the legendary Albert King, Stevie Ray Vaughan, Jimi_Hendrix, and Donald Kinsey (a member of the famous Wailers), Nico'ZZ uses the loose change in his pocket to buy his first blues record.
And from that point on, his vocation was born!
The accumulation of cultural encounters and numerous trips embarked on by him and his family gives this musician a creative palette from an early age. Traveling from city to city and from country to country, Nico'ZZ made many friends but remained a lone wolf that only divides his love between music and his family.
Nico'ZZ, guitarist and singer, goes on stage for the first time at the age of 14, and almost instantly becomes a teen star.
At 20 years old, he creates his first group named Walking Blues after having had experiences alongside other artists; and he begins to live financially from his passion in 2003 with the release of his first album as a singer-songwriter of blues.
In 2004, Walking Blues went on to perform concerts in France, Germany, Luxembourg, Belgium, and Holland. Nico'ZZ's music reveals a groovy sound, influenced by various music genres including blues, funk, R&B, reggae, and the rolls of rock!
Building on the music's success, Nico'ZZ goes to Chicago to record in 2006 at the RAX TRAX studios. Here Nico'ZZ has the grand privilege of accompanying his childhood idol Donald Kinsey on stage, also the guitarist of Bob Marley, Peter Tosh, Albert King, and Sir Waldo Weathers, the saxophonist of James Brown to name a few.
Continuously touring throughout Europe, he also collaborates with Tim Austin Mitchell and LeBurn Maddox.
For the record, at the age of 15, NicoZZ starred in a clip, « Power Wonder, » by David Briot, his guitar teacher since the age of 12. It was the start of an effortless musical collaboration that continues to this day, with the new title « It Hurt So Good » produced by Donald Kinsey. This album is available as a single and is soon to be released as a full album.
Website: nicozzband.com
Discography :
Walking Blues 2003
Cold Shot 2005
Chicago Session 2007
What's On Your Mind 2010
Sweat All Night (EP) 2013
Me&Myself 2014
Rise From My Ashes (Single) May 2020
Rise From My Ashes (Album) September 2020
Boutique on line
http://nicozzband.com/fr/shop
Musicien précoce, fan du légendaire Donald Kinsey (connu pour avoir fait partie des célèbres Wailers), d'Albert King, de Stevie Ray Vaughan et de Jimi Hendrix, il a dépensé son premier argent de poche pour acheter un disque de blues.
Sa vocation était née !
 Son enfance a été une succession de rencontres culturelles grâce aux nombreux déplacements de sa famille. Voyageant de ville en ville et de pays en pays, Nico'ZZ se fait beaucoup d'amis, mais reste un loup solitaire entre sa musique et sa famille. Nico'ZZ, guitariste et chanteur, monte pour la première fois sur scène à l'âge de 14 ans. Il devient un ado star. Il crée son premier groupe, Walking blues, à 20 ans, après avoir eu des expériences aux côtés d'autres artistes ; il commence à vivre financièrement de sa passion en 2003 avec la sortie de son premier disque en tant qu'auteur-compositeur de blues. Walking Blues enchaîne des concerts en France, en Allemagne, au Luxembourg, en Belgique, en Hollande et en 2004, NICO'ZZ Band est créé. La musique de NicoZZ révèle un son groovy, influencé par le blues, le funk, le R&B, le reggae sans oublier le rock. Fort de son succès, NicoZZ part enregistrer à Chicago en 2006 au RAX TRAX studios. C'est le moment des belles rencontres, et Nico'ZZ commence à jouer auprès des grands musiciens et chanteurs américains. Il a l'immense privilège d'accompagner l'idole de son enfance, Donald Kinsey, guitariste de Bob Marley, de Peter Tosh, et d'Albert King pour n'en citer que quelques uns. Et aussi Sir Waldo Weathers, saxophoniste de James Brown. Il collabore également avec Tim Austin Mitchell ou encore LeBurn Maddox, et il multiplie les tournées dans toute l'Europe.
Pour la petite histoire, à l'âge de 15 ans, NicoZZ a joué dans un clip, « Power Wonder » de David Briot, son professeur de guitare depuis l'âge de 12 ans. Cela a été le début d'une collaboration musicale sans failles qui se poursuit jusqu'à ce jour, avec le nouveau titre « It Hurt so good », produit par Donald Kinsey. Cet album est déjà en vente en single et prochainement en album complet